Master Li Junfeng
Qigong master, Founder of Sheng Zhen Qigong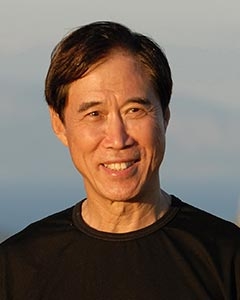 Master Li achieved international fame as a popular film actor, action director, and the coach of the Beijing Wushu team. At the height of his career his success brought him into contact with a spiritual master who taught him a simple but profound meditation technique, the Union of Three Hearts. His meditation practice subsequently led to a life-changing epiphany that planted the seeds of Sheng Zhen Gong in his heart, and he left China to spread this message of Unconditional Love throughout the world.
Master Li is one of the true living qigong masters of our time, and the driving force behind bringing Sheng Zhen Gong, the Qigong of Unconditional Love, into the world. His life is a testament to the value of practicing this system of qigong. Master Li travels internationally to train and certify Sheng Zhen Gong teachers, and to practice or simply spend time with his students. In doing so, he shares his passion, wisdom, humor and love, so that others can also experience the profound joy that permeates his entire being.
Master Li conducts workshops and teacher trainings in countries including Canada, the United States, France, Norway, Germany, Austria, Croatia, Latvia, Israel, Australia, Japan, and the Philippines, among others. When he's not traveling, he is based in Santa Barbara, California, where he teaches Sheng Zhen Gong workshops.
Master Li's goal is a world suffused with Unconditional Love, in which every person truly loves their neighbor as if they were family. He believes that the practice of Sheng Zhen Gong is the key to achieving this vision. With regular practice, one comes to experience a Sheng Zhen state: a life steeped in Unconditional Love.
Everything about Master Li emanates a deep and profound love – his kindness, compassion, his joie de vivre, and his seemingly boundless energy and enthusiasm. His heart is as big as the ocean he speaks of in Sheng Zhen teachings – the Divine Ocean that all spiritual seekers strive to reach. To be in his company is an honor and a gift. He lives by the same principles he teaches, and his spirit is radiant. Many who meet him are deeply moved by his presence and return from trainings feeling renewed and transformed.
Master Li Junfeng Interview
Master Li Junfeng – Earth is Alive ~ In Pain and Needs Our Help.
Master Li Junfeng – Big Heart, Big Picture, One Family.
Master Li Junfeng – Return To Oneness ~ One Family.
Master Li Junfeng – Awakening the Soul.
Master Li Junfeng – Merge With the Universe.
Master Li Junfeng – Recipe For Love and Joy.
Master Li Junfeng- Talking About Death.
Master Li Junfeng ~ "Awakening The Soul" Sheng Zhen Qigong Practice.
Master Li Junfeng – Three Functions of Sheng Zhen Qi Gong.
Master Li Junfeng – Chi is Free ~ We Are A Big Body of Love.
Master Li Junfeng – We Are One Family.
Master Li Junfeng – What does Qi Gong Mean?
Earth: A Body Alive | Master Li Junfeng | TEDxJanpath
Master Li Junfeng: Believe Love