Titanium Cookware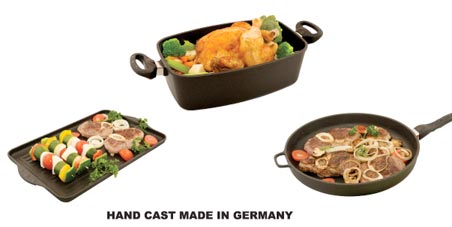 Call For Pricing
We love this company for the quality and cost of Titanium cookware-what is the sense of cooking healthy if unhealthy metals are leaking into your food. Please call us for our code to receive your discount.
Experience and Enjoy Great Natural Tasting Food Cooked with little or No Oil or Water!
Titanium Exclusive Cookware is the largest distributor of Titanium Cookware in North America, we carry Protected Non-Stick Titanium Cookware Hi-Tech European Design, Made & Quality.
All products from the Titanium Exclusive series are made of a high quality aluminum alloy cast in a German smeltery. Cast aluminum conducts heat seven times faster than iron/steel.
Congratulations…
Your interest in our product shows that you value healthy, delicious dining. Titanium Exclusive's frying and baking cookware with the proven titanium coating process has an abrasion-resistant frying surface, and are tailored to the needs of the modern household and professional kitchen. Quality and dependability are what give our products their high value.
Titanium Protected
Non-Stick Cookware
German Design, Made & Quality
Handles & Glass Lid Oven Proof up to 500 degrees F.
Patented handle will remain firmly attached to the pan.
Hand cast 7 – 8 mm thick bottom for optimum heat distribution Patented High Tech Titanium surface (patent DE-3604762C2)
Top quality for the highest demands
Titanium Exclusive has been awarded the GS and TÜV-Q quality marks for tested safety and quality by the TÜV-Rhineland/Germany technical testing authority.
Features
You can cook with little or no oil, fat or water.
Food retains maximum nutrients, enzymes and flavour. Meats are tastier, juicier and tender.
Patented, high-tech, non-stick, titanium surface finish.
8 mm. (0.30in) thick thermobasic hand-cast aluminum base ensures optimum heat distribution and retention – cutting cooking time in half.
Non-porous and the extremely durable titanium layer is 100% effective in preventing aluminum from leaking to the food.
Titanium layer also gives off indirect heat to assure a perfect cooking atmosphere.
Patented handles are screw-less, rivet-less.nothing to fall or loosen.
Handles, lids and knobs are oven – proof up to 260 degrees Celsius ( 500 degrees Fahrenheit)
Heat-resistant glass lids allows you to view the cooking process.
Unwarpable.. has won the prestigous German TUV independent Technical Control Association Product Safety stamp of approval for durability, quality control and GS (German Standard).
Works on any stove top. Save money and time by avoiding the oven.
20 year limited warranty. (see details on invoice)
Give your family what they deserve!
This "commercial style" cookware heats quickly and evenly because its heavy gauge, cast aluminum interior retains heat so well.
The durable titanium coating on the inside of the pan is non-stick which reduces the fat when you cook and the elbow-grease when you clean up!
The sturdy, durable handles are oven-safe in temperatures as high as 500 F.
The lids are made of clear Pyrex so you can monitor cooking progress without lifting the lid.
The twenty year warranty assures that you may anticipate many years of superior cooking performance.
*These statements have not been evaluated by the Food and Drug Administration.
This product is not intended to diagnose, treat, cure or prevent any disease.