Natasha Josefowitz, Ph.D.
Author, Poet, Grief and Healing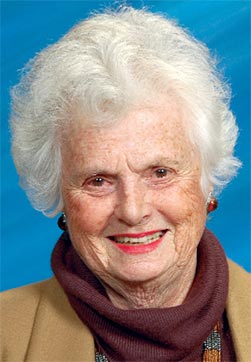 Nothing enhances health and well-being more than a life well-lived, at any stage of life. And octogenarian Natasha Josefowitz is proof of this.
The best-selling author and award-winning poet of 20 business and poetry books, Natasha's articles and poems have been published in over a hundred journals and magazines including the Harvard Business Review, the Wall Street Journal, Psychology Today, the London Times, and most major newspapers in the United States.
In 1980 Natasha's book, Paths to Power: A Woman's Guide from First Job to Top Executive (Addison Wesley) became the seminal work on moving women into top executive positions and earned her a place on the NY Times bestseller list as well as making her sought after as a consultant on the topic to both major corporations and government agencies. From GM to the CIA, Natasha was called in to consult.
One of the first female members of Rotary International, Natasha has hosted her own television segment, appeared regularly on NPR, written her own nationally syndicated column, and appeared on Larry King Show, Sally Jesse Raphael, and Dr. Ruth, to name a few. She is currently a regular contributor to Huffington Post, writes a newspaper column in La Jolla, California, and writes her own blog for www.natashaswords.com.
A psychologist who has written several other bestselling books, Natasha's passion is poetry.
Now, at 87 years young, Natasha still works full time. Having recently lost her brother, her son, and her husband, it is Natasha's strength, her passion for living life, and her candor that is truly infectious and which has carried her through. Reeling from her losses, Natasha conducted a study on the differences between how men and women grieve, finding some compelling differences. She then put her thoughts on grieving into a book, Living Without the One You Cannot Live Without (November 2013), which is perhaps the most telling book ever written about the grieving process. A collection of powerful, gritty, candid, and inspiring poems about living life after loss, it was recently named to Kirkus Reviews Best Books of 2013.
Currently, Natasha has been called upon by a local university to contribute to their study on aging, and she is creating an updated version of the stages of grief.
Inspiring, knowledgeable, indomitable, and fun, Natasha is someone whose energy and wisdom will help carry you thorough all the vicissitudes of life. And she is proof positive that there is much to learn from the older generation and that there is not age barrier to a full and productive life.
Visit Natasha at www.natashaswords.com
Order Natasha's Books Here
Interview Part One
Interview Part Two