Cell Balancer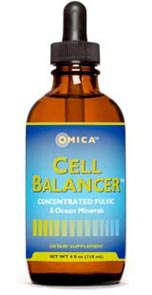 $29.00
Cell Balancer™ is an all-natural, proprietary formulation of Concentrated Fulvic Minerals bonded with Ancient Ocean-Derived Trace Minerals and Plant-Derived Trace Minerals, combined with Seaweed-Derived Minerals, Malic acid, and Citric acid.
What is unique about our Concentrated Fulvic Ionic Trace Minerals?
We begin with a proprietary, rare source of humic and fulvic base and then formulate using our proprietary, acid-free refining method.
No chemicals, flavorings, preservatives, or sweeteners
Non-Irradiated
Product of the USA
Always dilute with water or other beverage. TAKING UNDILUTED IS NOT RECOMMENDED
4 fl oz (118 mL)
Serving size: 32 drops
Servings per container: 46
Directions
3-4 droppers/pumps (1 pump is equal to 16-20 drops) diluted in water or other beverage, dispersed throughout the day. May be taken with or without food. Shake well before use. Refrigeration not necessary. May also be used to revitalize drinking water by adding 3 pumps per gallon of water.
One dropper/pump is the amount drawn into the dropper when the bulb is squeezed and released once. The entire tube will not fill completely, but will likely fill less than 1/2.
We find this to be a comprehensive mineral supplement that has no taste-thank god!!!! A great compliment to our modern lifestyle as the soil is often depleted of minerals as well as our food….
Put it in a shot glass with one ounce of water and your good to go!!!!
*These statements have not been evaluated by the Food and Drug Administration.
This product is not intended to diagnose, treat, cure or prevent any disease.